Organisation Locale des Guides Azuréens
Nouveau ! Visites pour individuels
En 2020, nous proposons des visites guidées thématiques et insolites pour les individuels.
Les Guides Azuréens vous dévoileront tous les secrets de Nice et de la Côte d'Azur.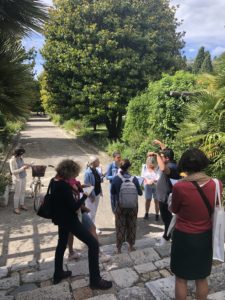 Pour toute information concernant ces visites, vous pouvez nous contacter par mail en cliquant sur ce lien.
Retrouvez-nous également sur les réseaux sociaux. N'hésitez pas à consulter régulièrement notre page pour connaitre notre actualité et les nouvelles visites organisées.
Pour réserver rien de plus simple, rendez-vous sur notre billetterie en ligne via ce lien :
Acheter mes billets !
Informations importantes:
La réservation est obligatoire via notre billetterie en ligne (weezevent)
Les personnes mineures doivent être accompagnées d'au moins un adulte.
Aucun remboursement ne pourra être accordé. Toutefois, en cas d'annulation il vous sera possible de réserver un nouveau créneau sous réserve de disponibilité.
Toutes nos visites sont effectuées par un guide conférencier diplômé détenteur d'une carte professionnelle.
Circuits & Excursions
Classiques ou Insolites, en demi-journée ou journée complète, l'O.L.G.A. vous propose une large gamme de Circuits et Excursions.
20 PROFESSIONAL GUIDES AT YOUR DISPOSAL
to discover the thousand facets of the French Riviera.
The local organization of the Riviera Guides is an association of qualified interpreters, founded in 1986 and it is 'THE' reference of guides interpreters on the French Riviera.

Thanks to our professionalism, our discipline and our experience in greeting clients from all around the world, we will always ensure that your customers spend an unforgettable stay in our beautiful region.
To organize trips by coach, stays or Congresses… trust our O.L.G.A. guides team. Several tours are available : classic tours,or tours with themes, of half a day or a day, and without forgetting one of our unique qualities : a pedestrian rally in the old town of Nice... We guide tours on the French Riviera in French, English, Italian, Spanish, German, Portuguese, Swedish, Russian, Chinese and Japanese.
Carnaval
De Mandelieu à Menton, en passant par Nice et Monaco, toute la French Riviera est en fête pendant la période du Carnaval !